Men's 3 Day Backcountry Sacred Hike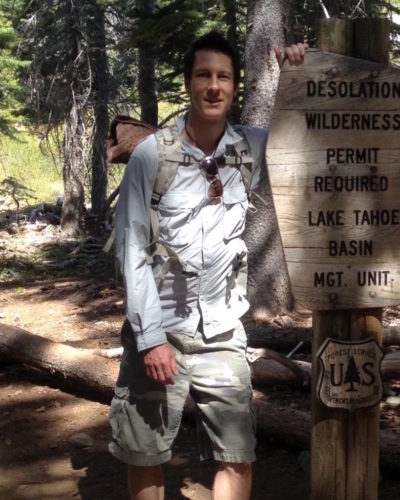 About
4 day excursion with a 3 day backpacking hike with about 4-8 carefully chosen men through the beautiful backcountry of Lassen National Park, with part of the trek taking us along the PCT (pacific crest trail).
The intention of this hike is to be pulled away from the urban distractions and to really connect with nature and your fellow brothers.  The hiking with be light to moderate and will be hiking max 4-5 hours day 1 and 3.  This will be about getting deep into nature without the need to do extreme hiking.  Total miles hiked will be about 12 miles split between 3 days.  We will be hiking, meditating, light group work, celebrating and most importantly bonding and having a ridiculous amount of fun and laughs.
I have hiked Lassen many times and it is breathtaking.  It shares the same mountain terrain as Yosemite to give you an idea of the environment.  I have been wanting to curate a men's group hike here for the last few years and excited to birth this. In July the weather is typically up to the 70's-80's during the day, chilly in the eve and cold early morning (11pm-6am). 
If you're on this list you've been hand selected because I personally know you will add to the integrity of the group.  I look forward to experiencing this with you.  
With Passion and Love, Scott
Dates: Weekend of the Thursday 27th-30th of July 
Location; Lassen Volcanic National Park (very similar environment to Yosemite).  4 hours from SF.  It's about 6000-8000 feet elevation so it never gets too hot, but always cool evenings.
Itinerary;  Day 1 – Arrive in SF anytime Wednesday or Thursday morning by 11am. (you are all welcome to crash at my house)   Leave around 1pm Thursday and drive to Red Bluff (about 3 hrs away) and overnight in a motel (just outside the park).  (for those that need to do some remote work on thurs there will be time for that).
Day 1 (Friday) Hike – Early Friday morning drive in Lassen National Park and start the hike.  Hike begins….  Chilling, swimming and connecting along the way. Evening circle and share.  
Day 2 (Saturday) No Hike – Intentional circle and ceremony.  No hiking Saturday.  This day is about connecting with nature, ourselves and the group.  Meditation, journal, swimming, laughing and loving life.
Day 3 (Sunday) Hike– Morning circle and meditation, 5 mile hike back to camp / car.  Closing circle.  Arriving at the car around 1pm, back in SF around 5-7pm.  Fly back sun night or Monday.
Also playing with the idea of staying an extra day or 2 for those who may be interested. 
Anyone is welcome to stay at my place in SF before and after the hike.
What You'll Need to Bring:
Backing accessories that are light enough to carry (most of these can be rented from REI or Sports Basement).  The 4 main items you need is:
Backpack for hiking
Tent – backpacking tent
Sleeping bag – backpacking bag –  warm rated to at least 30' degrees
Food & Water filtration system (filter, iodine pills, steripen or other).  Every night we will be camping by a lake so water will be available to us.  Should be able to share these.
Details and Misc (you'll need less than you think)
Food – I tend to bring bars, fruit (for easy discarding), and camping / freeze dried food that only needs hot water to make.  
1 water bottle, TP, small first aid kit, Illumination – headlamp, packable lantern, etc…
Clothes; hiking clothes, swim suit, pair of shorts, pants (convertible pants from rei etc work great), and insulation (layers (skins, etc…), no bulky jackets.  You want to avoid cotton ("cotton kills").
A few plastic bags for wet swim trunks, trash, etc..
Good comfortable hiking shoes (that are already broke in) (possibly 2 pair)
Optional "Extra circcurriculars" for day 2
Sun protection: Hat, sunscreen
Lighter / Matches for heat and fire
Optional:
Sleeping pad,  Sleep aid (melatonin, Ambien, etc…)
Camera (or phone), Sandals,  Dry bag, Cup
Coffee / Tea (I will have a drip device),
Headphones, Multi tool – Leatherman, etc…, Compass
2nd set of hiking shoes (or backup shoes)
GPS, (I will have my dad's SPOT emergency GPS tracker)
Jetboil (I will be bringing a jetboil for hot water (coffee, tea, food) (we will only need about 3 of these for the whole group)
What you won't need:
Speakers (we will have music covered)
Anything bulky
Electronics (other than your phone or hiking equipment)
What if I can only do a few days, is it cool if I come later and meet up?
Unfortunately not for a few reasons, 1, it would be too hard to coordinate meeting up as cell phone reception is basically nonexistent. 2, more importantly 3 full days immersed in nature is the minimal amount of time needed to really drop in.

I understand we all have things pressing for our time.  This will be one of those events that will be worth making the time and effort form
Can I invite others to join?   Yes possibly,  feel free to email me privately as I already have a list of potential men and there are only a few open spaces for this trip but would love to chat with you about any men that might add to this group

How do I reserve a spot? You will need to make a deposit to secure your spot.   You can paypal me at Paypal@GreentecSystems.com. 
If you think you are interested and would be flying, make a reservation on Southwest at least 2 months prior as you can always cancel your flight and get the flight credit.
What if it plans for rain? Depending on the weather, if lots of rain is forecasted we will probably postpone the trip 1 week (either prior or after).  If only light rain is forcasted we will still go.  Rain is low for that time of year.
Will I potentially die? Yes, but very unlikely  : ) We will be hiking on a mapped out hiking trail and will have an emergency GPS – satellite that can call for help if we need assistance.  Safety will be a primary focus.  There are bears but they are only interested in food and protecting their offspring. 
Mobile: 714 . 425 69 69
Email: Scott@AlchemicOne com